Becky Hallman – Women & Small Group Ministry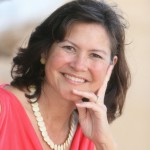 Born and raised on Oahu, Becky committed her life to Christ as a young girl but made a wholehearted commitment to the Lord during her college years. Becky met Bob at Calvary Chapel Honolulu where they worked in the youth and singles' ministries until they realized they didn't want to be single anymore! After marrying in 1987, they moved to the northeast where Pastor Bob graduated with a Masters of Divinity and Becky with a Masters in Special Education.
While in New York, the Lord graciously blessed Bob and Becky with two sons, Jonathan and Michael. In 1996, after ten years of ministry in the northeast, they responded to the Holy Spirit's call to return to the Hawaiian Islands to pastor Calvary Chapel Kauai (renamed as Crossroads Christian Fellowship).  They love Kauai and the wonderful work God is doing in and through the people at Crossroads!
After successfully homeschooling her sons and launching them into college, Becky devotes most of her time at Crossroads, overseeing the website and Women's Ministry, supporting the Youth and 'Ohana ministries and partnering with Pastor Bob in teaching Kauai Bible College's discipleship classes.  She especially enjoys equipping women leaders in the areas of discipling, leading small groups and counseling.
The most fulfilling joy and fruit in Becky's life is her family.   She loved raising her sons to adulthood, educating them through high school, launching them into college and cheering them on in their many crazy adventures!  In her free time, Becky enjoys biking, writing, adventuring with her family and barbecuing with friends!