Dana Nadeau – Men's Ministry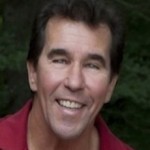 Dana Nadeau was born and raised in Southern California and committed his life to Christ in 1972.  Desiring to become more spiritually equipped, Dana attended and graduated from Melodyland School of Theology (MST) in the mid 1970's.  MST was a theological seminary college level school with renowned staff members:  Walter Martin, also known as the Bible Answer Man and head of CRI (the Christian Research Institute); John Warwick Montgomery, noted Christian apologist and lawyer; and Dr. John Rea, a noted Old Testament scholar and an editor of the New International Version of the Bible.
Seeking adventure and better surf, Dana moved to Kauai from San Clemente, California in early 1989, built his own home in Kilauea and has lived here  ever since.  He has attended Crossroads since 1996 and has served the congregation in many leadership capacities.  He now leads the Men's Fellowship, and serves as an advisor to the Board of Directors.  Dana owns and operates Garden Island Photography and owns Shave Ice Paradise in Hanalei.   Dana continues to enjoy surfing on the north shore of Kaua'i.