Guestbook
Welcome to our Guestbook page!  We often receive words of encouragement from visitors or newcomers concerning their experience at Crossroads.  Below are some comments from fellow brothers and sisters, as seen on Google + reviews: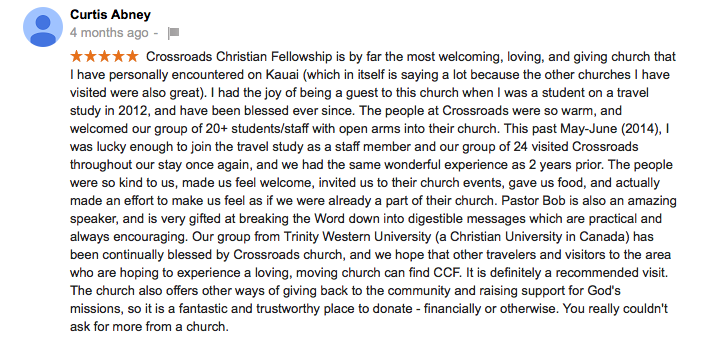 Feel free to send us your feedback!
9 Comments on "Guestbook"
Webmaster February 18, 2015 am28 7:14 am .

Aloha Pastor Largo,
We are delighted to hear of how the gift of Bibles has blessed the people in your church! May God use His Word to strengthen the people in your fellowship and equip them for every good work! As Paul told Timothy, "All Scripture is given by inspiration of God, and is profitable for doctrine, for reproof, for correction, for instruction in righteousness, that the man of God may be complete, thoroughly equipped for every good work." (2 Timothy 3:16).
God bless, Crossroads Christian Fellowship

Webmaster March 8, 2015 am31 12:59 am .

Aloha George and Laura,
Thank you for taking the time to write! So glad you both enjoyed your time on Kauai and at Crossroads! It's amazing to go to different places around the world and immediately have a bond because of Christ! Sounds like you're right where God wants you for now. We'll send you information regarding realtors for future reference if you need it.
God bless,
Crossroads Staff

Webmaster February 1, 2017 am28 5:10 am .

Aloha Lorri,
Thank you for taking the time to write in our Guestbook! So glad you came and fellowshipped with us and got encouraged! We'll look forward to your next visit! God bless you!