Malie de la Cruz – Church Administrator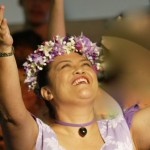 Although born and raised in California, Malie's roots stem from Kaua'I where both parents grew up.  Even though she was raised in the church, Malie truly rededicated her life to Jesus Christ at age 39.  This new life in Christ brought about a number of changes, including a move to Kauai in 1998 where she embarked upon a career as a SCUBA instructor and shop manager for a local dive company.
Malie's diverse background in office management prepared her for the position of church administrator here at Crossroads and has served in this position since 2003. In addition to her administrative duties, Malie is involved in many other ministries:   teaching and overseeing the hula ministry, singing on the worship team, organizing special dramas and events, and working with Sports Camp.  Working at Crossroads has helped Malie grow further in her walk with the Lord.  As Malie states, "Everyone on staff has genuine agape love for one another and encourages each other in their walk.  It's easier to be stretched in your faith when you know your brothers and sisters in Christ are right there cheering you on!"
Malie is married to Brian DelaCruz and has two adult children, Alyse and Aaron.  She has been blessed with five grandsons and three granddaughters.  In Malie's spare time, she enjoys scuba diving, dancing and playing softball.  One of Malie's favorite scriptures is 2 Cor. 1:3-7.  Malie's myriad of interests and talents and her boundless energy and enthusiasm are wonderful assets to Crossroads' ministry.