Hula
Hōano Hula Ministry
Na Wahine E Hi'ilani Ia Iesu
Thursdays:
4-5 pm – Intermediate Hula – Let them praise His name with the dance (Ps 149:3)
5-6 pm – Youth/Adult Beginning

Hōano Hula Ministry lifts up the name of the God and Father of our Lord Jesus Christ. Through dance, we exalt our Father of mercy and God of all comfort.
Through hula, our worship, praise and thanksgiving are offered up to the Lord and expressed in the form of graceful motions accompanied by modern musical instruments and songs, either in English or Hawaiian.
In old Hawai'i, the training of ancient, religious hula dancers at the halau hula (hula school) was strict and students followed elaborate rules of conduct (kapu) and had to obey their teacher (kumu). For example, dancers were forbidden from cutting their hair or nails and eating certain foods.
Through Hōano Hula Ministry women learn to worship their Creator using the graceful dance of hula.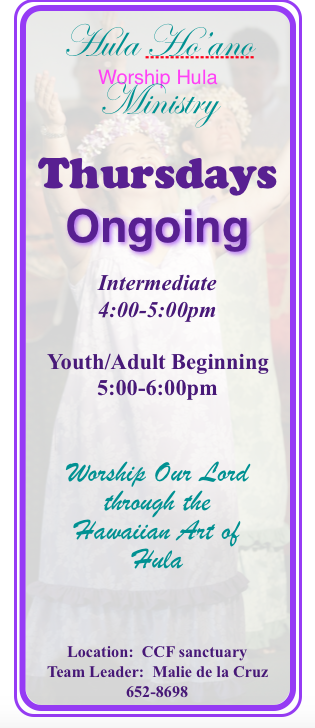 Crossroads is very blessed to have Kumu Malie leading the Hula Ministry! She not only teaches girls and ladies how to dance hula, but she also mentors them spiritually and teaches them how to sew their own hula dresses! These hula sisters can certainly follow Kumu Malie as she follows Christ! (1 Corinthians 11:1)
Photo credits: Brian de la Cruz
E Nānā Aku I Ka Nani O Iehova
(To gaze Upon the Beauty of the Lord)
(Psalm 27:4)
Ho'okahi mea noi aku au iā Iehova
One thing have I desired of the Lord
'Oia Ka'u e imi aku ai
That will I seek after
E noho au ma loko o ka hale O Iehova
That I may dwell in the house of the Lord
I nā lā a pau o ko'u ola 'ana
All the days of my life
E Nānā Aku I Ka Nani O Iehova
To behold the beauty of the Lord
Ae ninau I loko o ka hale O Iehova
And to inquire in His temple
3 Comments on "Hula"
You guyz are beautiful. I am in a little moment of time, wherewith I am weeping inside my soulʻs foundation… The language of hula, hawaiian and compassion are avenues with which Jesus is obviously using and ministering through you women. E hele mua ʻoukou i ka ʻike kūpuna a i ke aloha ʻO Iesū. Me ka ʻoiaʻiʻo a me ka manaʻolana aʻu, pono ka hoohuipūʻia ana a mākou malaila!
Iesū pū, aloha.

TūtūMāmā Uʻilanimakamaekapolipumehana Kūhaulua

Aloha, I noticed your website while searching for Christian Hula Halau's and found you. I am currently living in California, and have a hula sister living in Lihu'e, and am planning to retire and live in Kaua'i during the Winter months. Would you consider working with someone like me? I love hula, but don't want to dance the temple (kahiko) dances, and dance to God (God of Abraham, Issac, and Jacob). I may plan a visit to Kauai to see my hula sister, then go to the block party Aloha Festival in Oahu in September. I have attended many hula conferences in Oahu, and studied choreography by kumu's website, and attended a hula halau for 8 years.

It has been my prayer to continue dancing hula for worship to God.

Mahalo,

Napua

ForHisGlory June 6, 2017 am30 3:37 am .

Aloha Napua. We look forward to meeting you when you visit. Our hula ministry is very active here at Crossroads and you are welcome to join them. Many of our church members and Kauai Bible College students enjoy the ministry.