Rachelle Nam – Children's Ministry Director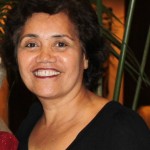 Rachelle's roots grow deep on Kaua'i where she was born and raised and is presently living.   After graduating from the Kamehameha Schools, she married Darrell Nam in her early twenties and raised two beautiful daughters, Chelsea and Candiss.  Without Christ in Rachelle and Darrell's lives, their marriage ended after about 10 years.  Amazingly, God redeemed and restored the Nam family in 1991 when their entire family received Christ at a Harvest Crusade on Oahu.  God began to transform Darrell and Rachelle and those around them, bringing hope for the future.  However, six months after the crusade, the Lord sovereignly called Darrell home, but not before giving Rachelle and Darrell a beautiful opportunity to ask one another for forgiveness.  God also gave their children time to experience the love of a godly father.
Since then, the Lord used Rachelle through several ministries:  leading several teams of King's Kids to Asia (YWAM), serving as Assistant Director for a crisis pregnancy center, and serving as Hawaii State Coordinator for Moms In Prayer International.   The Lord called Rachelle back to Kaua'i in 2003 where she serves as the Children's Ministry Director at Crossroads.  This ministry has touched the lives of hundreds of children through Vacation Bible School, Sports Camps, and Good News Clubs.   Rachelle enjoys teaching women to study God's Word inductively and discipling them.
Rachelle's joy is spending time with her grown daughters, meeting new people and watching others grow in the grace and knowledge of Christ.  She enjoys watching inspirational movies, bicycling, picking mango and lychee, and going on long car rides enjoying God's creation.  A special blessing that the Lord has bestowed upon Rachelle is giving her time with her mom, Mabel, as they minster together here on Kauai.