Sermons – Video
Sunday Sermons: If you missed a Sunday, or simply want to hear one again, you can find Sunday Sermons YouTube Channel or on our Vimeo and channels. Simply click the link and Enjoy! Be sure to subscribe to our channel and be notified immediately when a new video is uploaded.
You can also click any of the links to the right of the screen to see the complete Sermon post with video, audio and notes ===================================================>>>
Enjoy our most recent sermon below!
The Transfiguration (Matthew 17:1-13) Bob Hallman, June 29, 2014

Part of the

Matthew

series, preached at a

Sunday Morning

service

Pastor Bob expounds on the Transfiguration of Jesus and explains how this passage is often misinterpreted or misunderstood. Great quote from sermon: "Having the proper balance of the love of the Lord and the fear of the Lord leads to experiencing the joy of the Lord".

About Bob Hallman:

Senior Pastor of Crossroads Christian Fellowship

Matthew 17:1-13

1And after six days Jesus taketh Peter, James, and John his brother, and bringeth them up into an high mountain apart, 2And was transfigured before them: and his face did shine as the sun, and his raiment was white as the light. 3And, behold, there appeared unto them Moses and Elias talking with him. 4Then answered Peter, and said unto Jesus, Lord, it is good for us to be here: if thou wilt, let us make here three tabernacles; one for thee, and one for Moses, and one for Elias. 5While he yet spake, behold, a bright cloud overshadowed them: and behold a voice out of the cloud, which said, This is my beloved Son, in whom I am well pleased; hear ye him. 6And when the disciples heard it, they fell on their face, and were sore afraid. 7And Jesus came and touched them, and said, Arise, and be not afraid. 8And when they had lifted up their eyes, they saw no man, save Jesus only. 9And as they came down from the mountain, Jesus charged them, saying, Tell the vision to no man, until the Son of man be risen again from the dead. 10And his disciples asked him, saying, Why then say the scribes that Elias must first come? 11And Jesus answered and said unto them, Elias truly shall first come, and restore all things. 12But I say unto you, That Elias is come already, and they knew him not, but have done unto him whatsoever they listed. Likewise shall also the Son of man suffer of them. 13Then the disciples understood that he spake unto them of John the Baptist. (KJV)
Watch the sermon on local television (channel 52) on Tuesdays at 8 pm.
Ho'ike, which means "to show or display" is a private, nonprofit 501(c)3 tax-exempt charitable P.E.G. access television corporation. Ho'ike Kaua'i Community Television currently serves the island of Kaua'i with four channels. Public access is on Channel 54, Education on channels 55 and 56, and Government access is on channel 53.
Sermon Notes: Click on

Sermon Notes

if you want the written outlines that accompanies Pastor Bob's sermons. May God use these teachings to encourage you!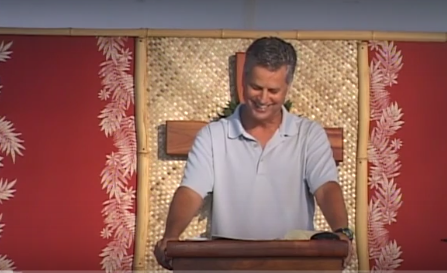 Questions, prayer requests, etc. Please be sure to Contact Us!
One Comment on "Sermons – Video"
Debra Hendren January 31, 2014 am31 3:14 am .

Really enjoyed the message about walking on the water. It was very encouraging and timely for me. We will be holidaying in Kapaa in late February so I hope to visit your church while on Kauai.

May The Lord richly bless you, your congregation and cause the work to prosper in every way.

Debra