Sermons – Video
Sunday Sermons: If you missed a Sunday, or simply want to hear one again, you can find Sunday Sermons YouTube Channel or on our Vimeo and channels. Simply click the link and Enjoy! Be sure to subscribe to our channel and be notified immediately when a new video is uploaded.
You can also click any of the links to the right of the screen to see the complete Sermon post with video, audio and notes ===================================================>>>
Enjoy our most recent sermon below!
A Chip Off the Old Block (Matthew 16:18-28) Bob Hallman, June 22, 2014

Part of the

Matthew

series, preached at a

Sunday Morning

service

This message could also be named "The Cross, then the Crown". Pastor Bob teaches from Matthew 16:18-28 and explains some verses that are commonly misinterpreted: "upon this rock I will build my church"; "I will give you the keys of the kingdom", etc.

Highlights:
1) Rock upon which church would be built -- refers to the testimony that Peter brought.
2) Keys of the kingdom of heaven are given to Peter to open doors for 3 groups of people: a) Jews; b) Samaritans; c) Gentiles. Opening of doors of salvation are accompanied by Baptism of Holy Spirit and authenticated by sign of tongues.
3) Authority to bind and loose within church: Legislatively and judicially
4) Pattern of cross before the crown - grief before glory

We tend to want the crown and not the cross. May we follow Christ in embracing the cross first, then the crown!

About Bob Hallman:

Senior Pastor of Crossroads Christian Fellowship

ERROR: The IP key is no longer supported. Please use your access key, the testing key 'TEST'
Watch the sermon on local television (channel 52) on Tuesdays at 8 pm.
Ho'ike, which means "to show or display" is a private, nonprofit 501(c)3 tax-exempt charitable P.E.G. access television corporation. Ho'ike Kaua'i Community Television currently serves the island of Kaua'i with four channels. Public access is on Channel 54, Education on channels 55 and 56, and Government access is on channel 53.
Sermon Notes: Click on

Sermon Notes

if you want the written outlines that accompanies Pastor Bob's sermons. May God use these teachings to encourage you!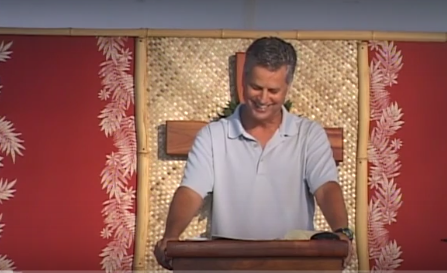 Questions, prayer requests, etc. Please be sure to Contact Us!
One Comment on "Sermons – Video"
Debra Hendren January 31, 2014 am31 3:14 am .

Really enjoyed the message about walking on the water. It was very encouraging and timely for me. We will be holidaying in Kapaa in late February so I hope to visit your church while on Kauai.

May The Lord richly bless you, your congregation and cause the work to prosper in every way.

Debra