Sermons – Video
Sunday Sermons: If you missed a Sunday, or simply want to hear one again, you can find Sunday Sermons YouTube Channel or on our Vimeo and channels. Simply click the link and Enjoy! Be sure to subscribe to our channel and be notified immediately when a new video is uploaded.
You can also click any of the links to the right of the screen to see the complete Sermon post with video, audio and notes ===================================================>>>
Enjoy our most recent sermon below!
The Lost Art of Maintaining a Healthy Church (Matthew 18:15-20) Bob Hallman, July 27, 2014

Part of the

Matthew

series, preached at a

Sunday Morning

service

Last week (Matthew 18:1-14), we saw God's perspective on children--how precious they are to Him and how serious it is to offend children. In Matthew 18:15-20, Jesus continues in this scriptural context of inevitable offenses, teaching believers how to properly reconcile their broken relationships. Christ is very serious about having the members of His body maintain the unity of the Spirit through the bond of peace. Seeking reconciliation in a biblical manner is the key to healthy relationships in the midst of a dysfunctional, broken world. This passage is very instructive and is truly a gift to us!

About Bob Hallman:

Senior Pastor of Crossroads Christian Fellowship

Matthew 18:15-20

15Moreover if thy brother shall trespass against thee, go and tell him his fault between thee and him alone: if he shall hear thee, thou hast gained thy brother. 16But if he will not hear thee, then take with thee one or two more, that in the mouth of two or three witnesses every word may be established. 17And if he shall neglect to hear them, tell it unto the church: but if he neglect to hear the church, let him be unto thee as an heathen man and a publican. 18Verily I say unto you, Whatsoever ye shall bind on earth shall be bound in heaven: and whatsoever ye shall loose on earth shall be loosed in heaven. 19Again I say unto you, That if two of you shall agree on earth as touching any thing that they shall ask, it shall be done for them of my Father which is in heaven. 20For where two or three are gathered together in my name, there am I in the midst of them. (KJV)
Watch the sermon on local television (channel 52) on Tuesdays at 8 pm.
Ho'ike, which means "to show or display" is a private, nonprofit 501(c)3 tax-exempt charitable P.E.G. access television corporation. Ho'ike Kaua'i Community Television currently serves the island of Kaua'i with four channels. Public access is on Channel 54, Education on channels 55 and 56, and Government access is on channel 53.
Sermon Notes: Click on

Sermon Notes

if you want the written outlines that accompanies Pastor Bob's sermons. May God use these teachings to encourage you!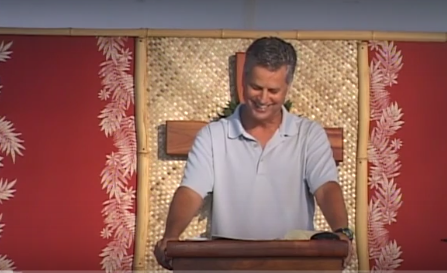 Questions, prayer requests, etc. Please be sure to Contact Us!
One Comment on "Sermons – Video"
Debra Hendren January 31, 2014 am31 3:14 am .

Really enjoyed the message about walking on the water. It was very encouraging and timely for me. We will be holidaying in Kapaa in late February so I hope to visit your church while on Kauai.

May The Lord richly bless you, your congregation and cause the work to prosper in every way.

Debra