Sermons – Video
Sunday Sermons: If you missed a Sunday, or simply want to hear one again, you can find Sunday Sermons YouTube Channel or on our Vimeo and channels. Simply click the link and Enjoy! Be sure to subscribe to our channel and be notified immediately when a new video is uploaded.
You can also click any of the links to the right of the screen to see the complete Sermon post with video, audio and notes ===================================================>>>
Enjoy our most recent sermon below!
Living Beyond Adversity (Colossians 4:2-6) Bob Hallman, January 15, 2017

Part of the

2017

series, preached at a

Sunday Morning

service

This week Pastor Bob Hallman started out in the book of Colossians Chapter 4

We all have things on our plate that concerns us. Through this text, we can bring all of the adversity and challenge and surrender it to God and allow them to be a platform for God's glory.

Through this particular scripture, we learn how Paul experienced adversity in his life and how he behaved through some of the roughest times in his life.

In this particular portion of text, we find Paul in prison for preaching the gospel yet, he never pulls the victim card.

Instead, he understands how his chains and his imprisonment are an advantage to the church and to the Kingdom of God

Paul wasn't a "positive thinker" or just presenting the sunny side of Christianity, he was embracing that no matter what man or Satan wants to do to him, he wont allow it to be framed by victim-hood

Pastor Bob Hallman encourages us on how to look at adversity and challenge as we face it.

We all have a unique fingerprint of life and almost everyone has been through some kind of adversity in their life.

Enjoy the rest of this message as Pastor shares more on how we can refuse to play the victim card and use what ever we face to honor God and his plan for us.

Will you call on the name of Christ and despite the suffering you may face, be joyful, feel privileged, honor, praise, worship and thanksgiving refusing to be victims of the enemy, the world, or even your own flesh and allow your life to become a platform for the glory of God.

to do this you must:
1. be devoted to prayer - God calls us to prayer and prayer is a key component to overcoming adversity

God can take adversity in our life and advance the Kingdom of God with it.

2. Watch For God's Divine Appointments - God planned moments for us to walk through (moment by moment) before we were even here. There are good works designed for us to walk in

3. In All Things Be Thankful - for the good and the bad, for the adversity too.

Enjoy the rest of this passionate Sunday Sermon about Living Beyond Adversity

Blessings,

Crossroads Christian Fellowship

About Bob Hallman:

Senior Pastor of Crossroads Christian Fellowship

Colossians 4:2-6

2Continue in prayer, and watch in the same with thanksgiving; 3Withal praying also for us, that God would open unto us a door of utterance, to speak the mystery of Christ, for which I am also in bonds: 4That I may make it manifest, as I ought to speak. 5Walk in wisdom toward them that are without, redeeming the time. 6Let your speech be alway with grace, seasoned with salt, that ye may know how ye ought to answer every man. (KJV)
Watch the sermon on local television (channel 52) on Tuesdays at 8 pm.
Ho'ike, which means "to show or display" is a private, nonprofit 501(c)3 tax-exempt charitable P.E.G. access television corporation. Ho'ike Kaua'i Community Television currently serves the island of Kaua'i with four channels. Public access is on Channel 54, Education on channels 55 and 56, and Government access is on channel 53.
Sermon Notes: Click on

Sermon Notes

if you want the written outlines that accompanies Pastor Bob's sermons. May God use these teachings to encourage you!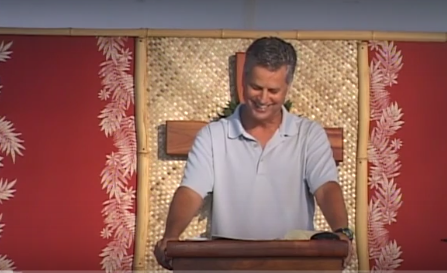 Questions, prayer requests, etc. Please be sure to Contact Us!
One Comment on "Sermons – Video"
Debra Hendren January 31, 2014 am31 3:14 am .

Really enjoyed the message about walking on the water. It was very encouraging and timely for me. We will be holidaying in Kapaa in late February so I hope to visit your church while on Kauai.

May The Lord richly bless you, your congregation and cause the work to prosper in every way.

Debra