Sermons – Video
Sunday Sermons: If you missed a Sunday, or simply want to hear one again, you can find Sunday Sermons YouTube Channel or on our Vimeo and channels. Simply click the link and Enjoy! Be sure to subscribe to our channel and be notified immediately when a new video is uploaded.
You can also click any of the links to the right of the screen to see the complete Sermon post with video, audio and notes ===================================================>>>
Enjoy our most recent sermon below!
Heart of A Disciple Maker (Colossians 4:7-18) Bob Hallman, January 22, 2017

Part of the

2017

series, preached at a

Sunday Morning

service

On this Sunday, Pastor Bob tells us how God has great things planned for us in 2017

http://www.crossroadskauai.org

We are encouraged to keep moving forward as God has good things planned for us and the year.

The message starts in Colossians 4:17-18 but we begin reading at verse 2.

It's not in our capacity to love sacrificially without an agenda, it's just not in us. But God's spirit comes into us and he fills us with this capacity and desire and ability to love in a way we were never able to before.

If you are a Christian, don't be surprised if you love people more and have an expectation that you will love people more.

We see that in Paul's heart through the message today. He is driven by the love and compassion of Christ.

We see it in the demonstration of his love in his work with the people he worked along with.

Pastor then goes more into the message and shares Paul's update to the church

Want people to motivate people, love them. If that love is missing, all the other mechanisms wont work and might backfire. if you really want to motivate people for change, the most important thing you can do is love them with Christ love.

You can do other things but the other things don't matter if love isn't the foundation and the underlying motive.

Enjoy the remainder of this video and message as Pastor Bob Shares the Heart of a Disciple Maker.

Blessings,

Crossroads Christian Fellowship
http://www.crossroadskauai.org

About Bob Hallman:

Senior Pastor of Crossroads Christian Fellowship

Colossians 4:7-18

7All my state shall Tychicus declare unto you, who is a beloved brother, and a faithful minister and fellowservant in the Lord: 8Whom I have sent unto you for the same purpose, that he might know your estate, and comfort your hearts; 9With Onesimus, a faithful and beloved brother, who is one of you. They shall make known unto you all things which are done here. 10Aristarchus my fellowprisoner saluteth you, and Marcus, sister's son to Barnabas, (touching whom ye received commandments: if he come unto you, receive him;) 11And Jesus, which is called Justus, who are of the circumcision. These only are my fellowworkers unto the kingdom of God, which have been a comfort unto me. 12Epaphras, who is one of you, a servant of Christ, saluteth you, always labouring fervently for you in prayers, that ye may stand perfect and complete in all the will of God. 13For I bear him record, that he hath a great zeal for you, and them that are in Laodicea, and them in Hierapolis. 14Luke, the beloved physician, and Demas, greet you. 15Salute the brethren which are in Laodicea, and Nymphas, and the church which is in his house. 16And when this epistle is read among you, cause that it be read also in the church of the Laodiceans; and that ye likewise read the epistle from Laodicea. 17And say to Archippus, Take heed to the ministry which thou hast received in the Lord, that thou fulfil it. 18The salutation by the hand of me Paul. Remember my bonds. Grace be with you. Amen. (KJV)
Watch the sermon on local television (channel 52) on Tuesdays at 8 pm.
Ho'ike, which means "to show or display" is a private, nonprofit 501(c)3 tax-exempt charitable P.E.G. access television corporation. Ho'ike Kaua'i Community Television currently serves the island of Kaua'i with four channels. Public access is on Channel 54, Education on channels 55 and 56, and Government access is on channel 53.
Sermon Notes: Click on

Sermon Notes

if you want the written outlines that accompanies Pastor Bob's sermons. May God use these teachings to encourage you!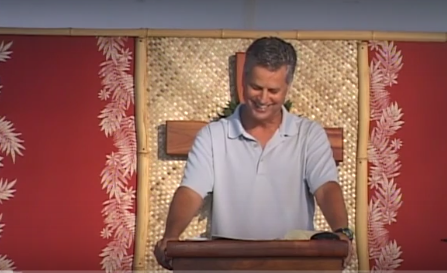 Questions, prayer requests, etc. Please be sure to Contact Us!
One Comment on "Sermons – Video"
Debra Hendren January 31, 2014 am31 3:14 am .

Really enjoyed the message about walking on the water. It was very encouraging and timely for me. We will be holidaying in Kapaa in late February so I hope to visit your church while on Kauai.

May The Lord richly bless you, your congregation and cause the work to prosper in every way.

Debra