Sermons – Video
Sunday Sermons: If you missed a Sunday, or simply want to hear one again, you can find Sunday Sermons YouTube Channel or on our Vimeo and channels. Simply click the link and Enjoy! Be sure to subscribe to our channel and be notified immediately when a new video is uploaded.
You can also click any of the links to the right of the screen to see the complete Sermon post with video, audio and notes ===================================================>>>
Enjoy our most recent sermon below!
Directed Prayer (Colossians 1:1-23) Bob Hallman, January 29, 2017

Part of the

2017

series, preached at a

Sunday Morning

service

"Some of the most glorious things come out of not running , not quitting, not caving, not letting go even when it's painful " Bob Hallman

This Past Sunday, Pastor Bob Hallman Lead the church in Directed Prayer

Through this Sunday Message, the congregation was encouraged to love one another and pray for one another

as Pastor Bob worked through 5 devotional areas.

Many of us have some type of pain in our lives, even if we don't show it and God cares about that.

In one of the five devotions covered in this message (and video), Pastor Bob talks about Hupomone
Endurance to continue - to stay, remain, abide
the endurance to stay under the weight, the challenge, the calling, the commitments with the strength and power that God gives us. This can be in any area of life:
~ challenging marriage
~ challenging kids
~ some sort of health conflict
~ could be any number of things
As a church, we are praying for you that by the glorious might of God, you might have power to continue
We don't:
~ fail,
~ quit,
~ come up with our own plan, or work the angles and find another way (besides what the bible says) to satisfy our need for relief.
yes, there is a desire on our part to stop the pain. Life is sometimes painful
some of the most glorious things come from not running!!!
Sticking with what God has called you to do and waiting on God, ... God rewards this and he delivers us. This is GLORIOUS.
Enjoy the rest of this very special Sunday Sermon. If you've enjoyed this message, let us know by leaving a comment below.
Blessings,

About Bob Hallman:

Senior Pastor of Crossroads Christian Fellowship

Colossians 1:1-23

1Paul, an apostle of Jesus Christ by the will of God, and Timotheus our brother, 2To the saints and faithful brethren in Christ which are at Colosse: Grace be unto you, and peace, from God our Father and the Lord Jesus Christ. 3We give thanks to God and the Father of our Lord Jesus Christ, praying always for you, 4Since we heard of your faith in Christ Jesus, and of the love which ye have to all the saints, 5For the hope which is laid up for you in heaven, whereof ye heard before in the word of the truth of the gospel; 6Which is come unto you, as it is in all the world; and bringeth forth fruit, as it doth also in you, since the day ye heard of it, and knew the grace of God in truth: 7As ye also learned of Epaphras our dear fellowservant, who is for you a faithful minister of Christ; 8Who also declared unto us your love in the Spirit. 9For this cause we also, since the day we heard it, do not cease to pray for you, and to desire that ye might be filled with the knowledge of his will in all wisdom and spiritual understanding; 10That ye might walk worthy of the Lord unto all pleasing, being fruitful in every good work, and increasing in the knowledge of God; 11Strengthened with all might, according to his glorious power, unto all patience and longsuffering with joyfulness; 12Giving thanks unto the Father, which hath made us meet to be partakers of the inheritance of the saints in light: 13Who hath delivered us from the power of darkness, and hath translated us into the kingdom of his dear Son: 14In whom we have redemption through his blood, even the forgiveness of sins: 15Who is the image of the invisible God, the firstborn of every creature: 16For by him were all things created, that are in heaven, and that are in earth, visible and invisible, whether they be thrones, or dominions, or principalities, or powers: all things were created by him, and for him: 17And he is before all things, and by him all things consist. 18And he is the head of the body, the church: who is the beginning, the firstborn from the dead; that in all things he might have the preeminence. 19For it pleased the Father that in him should all fulness dwell; 20And, having made peace through the blood of his cross, by him to reconcile all things unto himself; by him, I say, whether they be things in earth, or things in heaven. 21And you, that were sometime alienated and enemies in your mind by wicked works, yet now hath he reconciled 22In the body of his flesh through death, to present you holy and unblameable and unreproveable in his sight: 23If ye continue in the faith grounded and settled, and be not moved away from the hope of the gospel, which ye have heard, and which was preached to every creature which is under heaven; whereof I Paul am made a minister; (KJV)
Watch the sermon on local television (channel 52) on Tuesdays at 8 pm.
Ho'ike, which means "to show or display" is a private, nonprofit 501(c)3 tax-exempt charitable P.E.G. access television corporation. Ho'ike Kaua'i Community Television currently serves the island of Kaua'i with four channels. Public access is on Channel 54, Education on channels 55 and 56, and Government access is on channel 53.
Sermon Notes: Click on

Sermon Notes

if you want the written outlines that accompanies Pastor Bob's sermons. May God use these teachings to encourage you!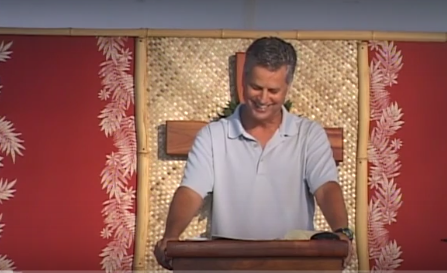 Questions, prayer requests, etc. Please be sure to Contact Us!
One Comment on "Sermons – Video"
Debra Hendren January 31, 2014 am31 3:14 am .

Really enjoyed the message about walking on the water. It was very encouraging and timely for me. We will be holidaying in Kapaa in late February so I hope to visit your church while on Kauai.

May The Lord richly bless you, your congregation and cause the work to prosper in every way.

Debra