Sermons – Video
Sunday Sermons: If you missed a Sunday, or simply want to hear one again, you can find Sunday Sermons YouTube Channel or on our Vimeo and channels. Simply click the link and Enjoy! Be sure to subscribe to our channel and be notified immediately when a new video is uploaded.
You can also click any of the links to the right of the screen to see the complete Sermon post with video, audio and notes ===================================================>>>
Enjoy our most recent sermon below!
Breaking The Chains of Pornography | Part 2 of 2

()

Bob Hallman, February 12, 2017

Part of the

2017

series, preached at a

Sunday Morning

service

Part 2 of 2, Breaking the Chains of Pornography.

Pastor starts in Isaiah 61.

A few weeks back, Josh McDowell came to Kauai and spoke to pastors and leaders of Kauai. He brought to their attention a problem that many weren't aware was so great.

Josh appealed to the group to address this subject as it is the most catastrophic tidal wave of destruction confronting the church today.

It's worse than outside influence, worse than false teaching, worse than bad doctrine.

Through this message, Pastor Bob Hallman appeals to us regarding this serious topic.

There are very few things having influence and bringing bondage to men and women today, than pornography.

The statistics on pornography are astonishing and have only gotten worse.

Pastor began to share statistics on this industry which has become a 20 Billion dollar industry now.

The revenue from pornography surpasses all the sales from professional sports.

Not only is pornography sinful, it's addicting.

We have a community of men and women trying to pursue Christ being inundated by an influence of the enemy.

Enjoy the rest of this video message as pastor shares more about this challenge and presents a plan to overcome it.

Leave a comment and share what you enjoyed most about this message.

Blessings,

Crossroads Christian Fellowship
http://www.facebook.com/crossroadskauai

3:27 Josh McDowell appeals to the pastors and leaders of Kauai
3:54 Pastor Bob Hallman appeals to us
4:40 Definition of pornography
5:22 Statistics on pornography
6:20 Impact of pornography on the brain
7:15 Statistics on pornography in the church
8:00 Sewer line break story in San Diego
11:12 Chinese couple say Thank You
13:08 The Truth that sets you free - the struggle is over
13:37 The allure of Pornography
14:45 The damage of pornography on relationships
15:50 Ladies, you are not responsible but you can help
19:18 Sense of guilt and shame, no finger pointing needed
19:56 Setting captives free
20:13 Laziness of Husbands '
23:08 The Carnal Man
33:24 The way out of pornography

About Bob Hallman:

Senior Pastor of Crossroads Christian Fellowship
Watch the sermon on local television (channel 52) on Tuesdays at 8 pm.
Ho'ike, which means "to show or display" is a private, nonprofit 501(c)3 tax-exempt charitable P.E.G. access television corporation. Ho'ike Kaua'i Community Television currently serves the island of Kaua'i with four channels. Public access is on Channel 54, Education on channels 55 and 56, and Government access is on channel 53.
Sermon Notes: Click on

Sermon Notes

if you want the written outlines that accompanies Pastor Bob's sermons. May God use these teachings to encourage you!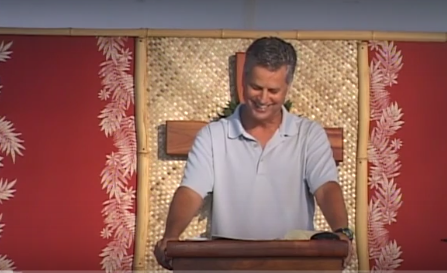 Questions, prayer requests, etc. Please be sure to Contact Us!
One Comment on "Sermons – Video"
Debra Hendren January 31, 2014 am31 3:14 am .

Really enjoyed the message about walking on the water. It was very encouraging and timely for me. We will be holidaying in Kapaa in late February so I hope to visit your church while on Kauai.

May The Lord richly bless you, your congregation and cause the work to prosper in every way.

Debra